German copper maker Wieland chooses Kentucky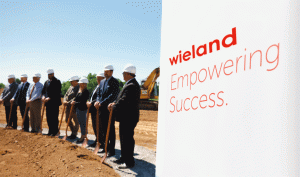 Wieland North America is building a $100 million plant in Shelbyville, Ky. The Germany-based company's facility will melt copper and copper-alloy for recycling for use in manufacturing semi-finished copper and copper-alloy products for customers throughout North America.
"We are so excited to welcome our friends at Wieland North America to Shelbyville and into our Shelby Energy Cooperative family," said Jack Bragg Jr., president and CEO of Shelby Energy Cooperative.
Wieland North America manufactures copper and copper-alloy products, including sheet, strip, foil, tube, bar and other fabricated components, and also rerolls and forms other metals, such as stainless and carbon steel. Its products are used in a variety of industries, including building and construction, munitions, automotive, coinage and electronics/electrical components.
Find out how Kentucky's Touchstone Energy Cooperatives helped Wieland locate the right site for its new facility. (FDI Alliance magazine, January 2022)